0
+ Million views
iVX can deliver more views in a campaign
0
% more shares
iVX can deliver more online view shares
0
% more conversions
iVX can deliver more conversions
0
% longer engagements
iVX can deliver longer online engagements
iVX Compelling Benefits
Millions More in Multi-Channel Marketing Video Marketing Benefits
iVX can deliver more sales with mobile/online marketing videos for interactive engagement where Forrester Research, Aberdeen's Market Intelligence and other marketing authorities report:
Consumers expect to be entertained and engaged and brands can deliver this through interactive experiences
Social media video generates 1200% more online view shares than images and text combined
An email with a video receives an average higher click-through rate of 200 to 300%
Viewers retain 95% of a message they watch through video vs. 10% through text
Video offers more than 50% higher revenue growth rates year-over-year
Video delivers 123% more growth in web traffic year-over-year Exponentially Expand Video Marketing Benefits
iVX exponentially expands mobile/online marketing with hyper-personalization and dynamic interactivity to deliver:
Over 500 million iVX videos viewed in one campaign for a Fortune 100 client and 1.5 billion views overall
284% longer online engagements and 80% higher click through rates (CTRs)
2X more sales, a 31:1 ROI and 50% higher CTRs for a Fortune 15 client
37% higher sales conversions and a 12:1 return on Investment (ROI)
iVX digital marketing delivers emotionally engaging two-way responsive experiences with hyper-personalized fully interactive video for better customer engagement and sales – the next best thing to being there.
Artificial Intelligence Benefits
iVX uses customer data analytics powered by Artificial Intelligence (AI) and Machine Learning that can convert data and video or other media from a passive media to two-way responsive interactive personalized video to listen, learn, predict and transact business
Additional iVX Benefits
iVX digital technologies can exponentially drive more and longer online engagements for better sales and profits with:
Compelling emotional iVX experiences based on Nobel Prize-Winning and MIT Media Lab research in Behavioral Economics and Cognitive Science that concludes emotionally engaging experiences like iVX can improve decisions and avoid highly destructive cutthroat online promotional price competition.
One-to-One IP & Geo-Location Fencing
iVX 's ad tech brings geo-location fencing specific accuracy to digital advertising. Through our patented IP Targeting technology, iVX targets digital ads to your customer by matching their IP address with their physical address, bringing a wide variety of banner and display ads to the sites the targeted customer visits on the Internet. iVX is revolutionizing programmatic media through its patented approach of matching physical addresses to IP addresses, allowing clients more effectively target the right consumers. The iVX system is 100% cookie-free and its proprietary approach connects with real people at an unparalleled accuracy.
Compelling emotionally engaging iVX experiences can avoid highly destructive cutthroat online promotional price competition. iVX technologies are based on the latest Nobel Prize-Winning and MIT Media Lab research in Cognitive Science and Behavioral Economics on decision making which concludes that:
"Decisions are feelings-based which are then rationalized using objective facts and figures. So to truly influence the decision-making process, we must connect on an experiential level. It's marketing to the heart, not the head. And it's a total no-brainer."
iVX can enhance and enrich YouTube and other videos or media to iVX with two-way responsive interactive videos and hyper–personalization for multi-channel campaigns with smartphone text, email, custom print and social media. iVX is more dynamic than YouTube and other linear video platforms that can't offer truly interactive transactions with hyper–personalization and artificial intelligence and machine Learning.
Artificial Intelligence and Machine Learning
iVX two-way responsive interactive videos can with Artificial Intelligence and Machine Learning in real-time (1) look up a customer's first name and with naming algorithms change the marketing message and approach to best appeal to a man or woman, (2) offer full personalization for customers based upon their interests, needs, gender and other factors  – not just a name, (3) when provided  "the price or rate" for a service, product, loan or credit card show the savings for a new service, product, card or loan and complete the sale (4) provide two-way responsive questions to "listen" and respond to each customer (5) provide automated sales and underwriting of insurance, annuities and other financial services emphatically walking the prospect through the application process, conducting the underwriting of actuarial and medical risks with the actual issuance of policies or contracts online, (6) interactive mining multiple products or services with customer inputs and then bundling them to offer a wide range of discounts and custom offerings, (7) deliver a series of robust notifications for follow-up, reporting and campaign optimization, (8) generate surveys and reminders for customers that have not completed a purchase or fully responded, (9) deliver new content dynamically, fire third-party web events / scheduled actions, and generate real-time text SMS, smart email and custom print, (10) generate Quick Response iVX to follow-up video personalized in real time,  (11) convert existing video or other media from a passive media to interactive media to listen, learn, predict and transact business and (12) with two-way responsive questions "listen" and respond to each customer using algorithms triggered DURING an interactive video from third-party data or your CRM to deliver a sequence of action-oriented communications that give your digital marketing more OMG.
CRM/Loyalty – For More Sales
With big data comes big opportunity. When you know your customers, iVX lets you unleash the power of highly personalized and relevant communications to cross-sell, upsell and keep your customers. You can also use iVX to encourage referrals or gain positive social media reviews.
Benefits of iVX for CRM include:
iVX SmartPoints connect campaigns and behavioral interactions to be sure every touchpoint is intelligent
iVX SmartShare lets your customers and fans create personalized experiences and offers they can share with their friends and family
iVX can be a powerful medium for educating and training customers
iVX interactive videos are a great way to send even a simple personalized "thank you"
Starbuck's College Achievement Plan - Employee Development
Video is a powerful medium for training and educating — but interactive video takes possibilities to whole new level from changing personas based on the individual to adaptive and trackable scoring / competency.
Benefits of iVX for Development include:
Interactive video addresses all learning styles — especially for kinesthetic learners
Training and education programs can be delivered in a series of modules over a period of time
Personas can be presented dynamically to remove bias
Because experiences are "two-way" — programs can include feedback and input from users that help optimize the program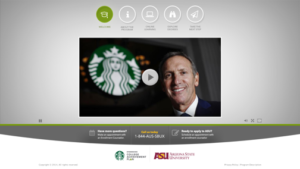 Howard Schultz the Former Executive Chairman and Founder of Starbucks led this iVX video.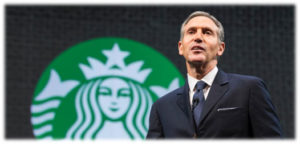 This Starbucks iVX interactive video drove viral engagement with over 500 million videos views where emotionally engaging iVX experiences can go viral and avoid cutthroat price competition.
Starbucks (College Achievement Plan) Howard Schultz Starbucks iVX that drove viral engagement
Independent Marketing Studies Report:
Social media video generates 1200% more online view shares than images and text combined
An email with a video receives an average higher click-through rate of 200 to 300%
Viewers retain 95% of a message they watch through video vs. 10% through text
Video on a landing page can increase conversions by 80% or more
Benefits of iVX for Talent Development
The most powerful talent development involves listening — and with iVX's two-way video capability, you can use data, inputs and behavior to mold real-time and future content touchpoints.
iVX easily integrates with third-party data to inform coaching content
iVX delivers cross-channel communications to ensure coaching and development invokes the best of learning styles
iVX presents the opportunity to "scale" subject matter experts and deliver content in a highly personalized manner
iVX Notifications allow for the Virtual Coaching to easily communicate with real coaches by escalating issues and warning signs from the virtual experiences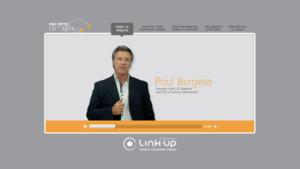 When Cisco Systems needed to administer a coaching and collaboration tool to 20,000 engineers worldwide — Instinctive Drives used iVX to deliver test results and an extended orientation curriculum for over 4,500 different combinations.
Banks and other lenders are exposed to substantial liabilities for regulatory compliance. The Customer Financial Protection Bureau (CFPB) ordered one of the nation's largest banks to pay $700 million in customer relief. One of the largest mortgage loan servicers was ordered by the CFPP and state regulators to provide $2 billion in loan modification relief to its borrowers and $125 million in refunds to borrowers whose homes were foreclosed.  iVX can enable lenders to avoid these penalties and more effectively work with their borrowers and underperforming loans to move those loans back to compliance.
Rather than an incomprehensible and baffling 16 page underperforming loan government form, iVX can start loan loss mitigation with this survey by determining the borrower's current status, including understanding their desires and intentions, and how to reach them with relevant information on their loss mitigation options. This is a huge undertaking when borrowers that resist engaging in the process and loan servicers will often go off script, resulting in heavy fines. The loan collections industry is challenging — but iVX and Ditech took the lead and converted a not-so-user-friendly government form into a positive, empathetic "we can help you" survey.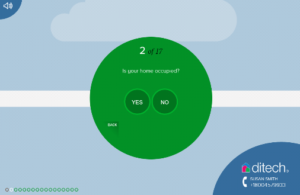 iVX offers full interactive online dialogues and surveys that get delinquent borrowers back on track. With iVX banks and lenders can work more productively to get loans restructured. No longer will borrowers need to read volumes of information that is not relevant to their situation. No longer will borrowers avoid loan servicers and inhibit their own loan restructuring progress. Everyone wins!
iVX Lender Compliance provides banks and other lenders with:
New more effective productivity tools for loan officers and servicers
Ensure compliance with standardized messages avoiding costly fines
Fully interactive online mortgage and other loan surveys
Lead Conversion
Research has proven that online lead follow-up in one minute or less can result in improved conversion rates of 30% – 180%. With iVX Quick Response, you can be in your prospect's inbox within seconds of capturing a lead with a fully personalized, contextual video "closing" message.
Benefits of iVX for Lead Conversion include:
An iVX follow-up video completely personalized on the fly
The iVX platform allows you to set up a behavioral touchpoint series to optimize lead conversion over the first five days
iVX can deliver an emotional message with direct calls-to-action built directly into the video experience
iVX tracks all levels of engagement of your Quick Response campaign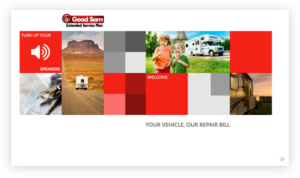 DELIVERING RV PEACE OF MIND
Camping world generates a 12:1 ROI with iVX through improved sales conversion of prospects seeking quotes on External Service Protection for their recreational vehicles.
Improved sales conversion gave Camping World a 12:1 ROI using iVX Quick Response.
Microsoft deployed iVX worldwide for sales of the Surface and Surface Pro computers and tablets
Biz Prop
The next generation of content is here — interactive video experiences. Now you can deliver highly scalable personalized, 1:1, transactional, behavioral, trackable content that will increase engagement and improve outcomes throughout your business cycle. You can use iVX to:
Clone your best sales rep
Improve lead capture and conversion
Raise the bar in CRM / loyalty programs
Increase the effectiveness of training and education
Scale customer service and technical support
iVX is a technology layer that easily integrates with best-in-breed solutions.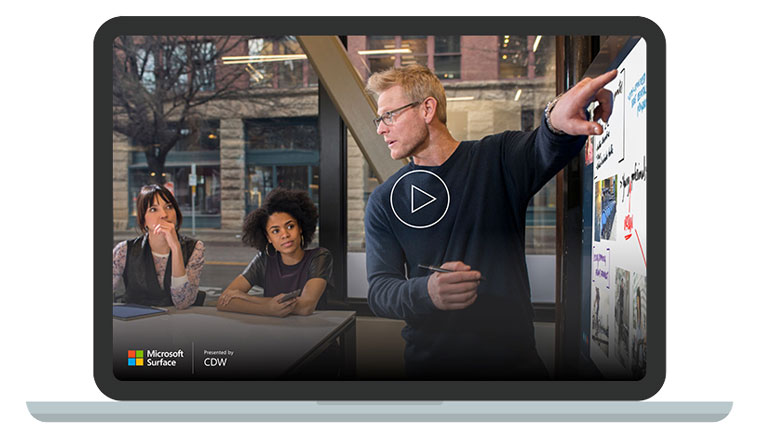 McKinsey partnered with iVX in the Digital Design Marketing Summit. McKinsey reports "personalization is Marketing's Holy Grail that can reduce acquisition costs by 50% and increase the efficiency of marketing spend."
Video Marketing Benefits & Statistics